Friday, June 22, 2018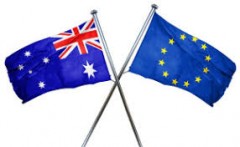 Australia edges closer to Free Trade Agreement with Europe, opening the door to a US$17.3 trillion GDP market.
The Australian Department of Foreign Affairs and Trade have released further details of the ongoing plans to finalise the Freetrade Agreement with the European Union. Discussions started on the 18th of June 2018, as Australia looks to secure the deal which would provide new opportunities with the country's second largest trade partner.
The joint media release from The Hon Malcolm Turnbull MP, Prime Minister and The Hon Steven Ciobo MP, Minister for Trade, Tourism and Investment shows the importance the Freetrade Agreement would have in providing Australians business access to the US$17.3 trillion GDP of the EU.
"The Turnbull Government is backing Australian businesses and Australian jobs by launching negotiations on a Free Trade Agreement with the European Union."
"We are seeking an ambitious and comprehensive trade agreement to drive Australian exports, economic growth and create new Australian jobs."
"A trade agreement with the EU will open the door to a market of half a billion consumers and a GDP of US$17.3 trillion – making it one of Australia's biggest trade agreements once concluded."
The full media release can be found at: http://trademinister.gov.au/releases/Pages/2018/sc_mr_180618.aspx
Australia remains in the top 20 trading countries in the world, with our ability to increase export volumes and a strong emphasis on imports. The Governments proactive approach towards securing Freetrade Agreements will strengthen Australian exports, economic growth and job creation.
The official released by The Australian Department of Foreign Affairs and Trade can be found at:
http://dfat.gov.au/trade/agreements/negotiations/aeufta/Pages/default.aspx
For more information on how to lower the cost on international freight import and export or strategies to enter new overseas markets, your local C.T. Freight representatives are available to assist