Tuesday, October 23, 2018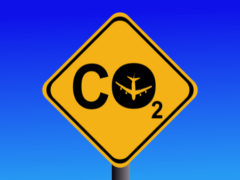 IATA reports the aviation industry is on track to reduce CO2 emissions and to allow for carbon-neutral growth from 2020. Alexandre de Juniac (IATA Director General and CEO) further explains that by 2050 net emissions will be cut by half (based on 2005 levels).
In 2008 industry leaders from the aviation industry met to sign a declaration to reduce carbon emissions. In total, 73 governments have signed the plan which covers 88% of the aviation industry. As a result, flying has already become 20% more fuel efficient. The declaration consists of 4 pillars:
New technologies
Operational improvements
Effective use of infrastructure
Single global market-based measure
De Juniac states that these pillars were the key to achieve 20% more fuel efficiency in the past years. As part of this plan, airlines have to start monitoring all CO2 emissions on 1 January 2019.
The CORSIA Agreement (Carbon Offsetting and Reduction Scheme for International Aviation) reached in 2016 aims at carbon-neutral growth from 2020. This agreement is meant to be the single global measure for aviation climate mitigation as stated in 2008's declaration.
The next major step contains the use of hybrid and electric planes by 2030 as well as a large-scale rollout of sustainable fuels.
According to de Juniac, the aviation industry has made some first significant steps towards cutting carbon emissions. He knows it is a challenging venture, but the industry is on the right path.
Sources:
https://airlines.iata.org/news/iata-reaffirms-commitment-to-reducing-emissions
https://airlines.iata.org/news/atag-airlines-need-to-be-ready-for-corsia