Wednesday, December 19, 2018

Having worked closely with farmers in Mildura for many years, C.T. Freight has recently opened an office in Mildura.
With our freight experts Brian Lush and Jill Gaynor, who have more than 40 years of combined international freight forwarding experience, C.T. Freight will be able to greatly increase the level of service offered to our local customers. We understand that throughout the busy harvest season our clients may not have the time to come into our office to discuss their individual freight forwarding needs, so our team will now be able to go out and see clients, whenever it is most suitable for them.
The Mildura office – In addition to our Melbourne and Adelaide offices and warehouses – will enable C.T. Freight to improve transit times and get product from Mildura to the world quicker than anyone in the region. We take the hassle and stress away from our customers so they can focus on what they do best.
Mildura is a major horticultural hub, notable for its grape production, supplying 80% of Victoria's grapes. Countries such as China, Thailand, Taiwan, Japan, India, Korea, Singapore, and Malaysia are increasingly sourcing our fresh produce, making perishables one of Australia's top export products.
Established in 1981, C.T. Freight combines extensive expertise in perishables, cold chain logistics and international freight forwarding. C.T. Freight is the largest perishable air freight forwarder in Australia by IATA tonnage. This allows us to leverage our extensive relationships to deliver the best international freight forwarding service to our customers in the Mildura region.
Would you like to find out more about C.T. Freight's perishable and cold chain services? Please see the Perishables Service page or contact us. Feel free to visit us at our Mildura office or give us a call and we can arrange an appointment.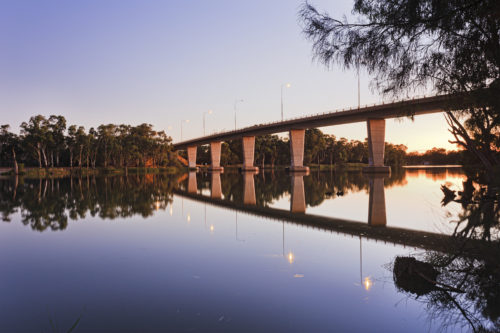 (Mildura Bridge)