Wednesday, November 28, 2018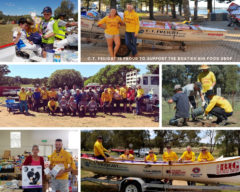 This year's drought has hit farmers hard in rural NSW, many families and farms are still impacted by its consequences. Help is still needed. Hence, the Collaroy Surf Live Saving Club decided to raise money to finance food and necessities to drought-affected farms in the Dubbo region. Further, the Collaroy SLSC planned to gather a group of people to deliver the products themselves and stay for a weekend to help with wherever help is needed.
From 9 – 12 November 2018 a team of 30 volunteers travelled 6 hours to Dubbo and built fences, cooked, cleaned or helped out in any possible way to lend people in the Dubbo region support and hopefully lift morale.
Clive Thomas believes: "This was a great initiative of the Collaroy SLSC and in addition to our ongoing support of the club we decided to sponsor this great event without thinking."
With the money they had been able to raise, the team was able to deliver four surfboats full of food and other necessary products.
Watch the video to find out more about the Boaties Big Food Drop.
Sources:
https://www.facebook.com/events/2002907463354075/
Collaroy Surf Live Saving Club