Friday, December 13, 2013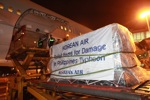 Korean Air will provide relief goods worth over 106 million South Korean Won to those affected by Typhoon Haiyan in the Philippines. Goods being delivered to the country include 60,000 liters of mineral water, 60,000 noodle cups, 24,000 cups of dried rice and 2,000 blankets.
The first relief goods from Korean Air has been delivered to Cebu Province via the KE631 flight from Seoul/Incheon on 26 November. The airline will then continue to deliver goods to social welfare organisations in the Philippines for the following seven days.